sionally, The Lynnea Lane Story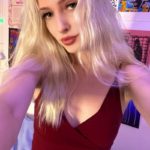 My name is Lynnea Lane and I've been in the Phone Sex Industry since I was of legal age. I've always been sexually adventurous and it helped me get through college financially. But I found I was good at it and had more success than I ever expected. Meanwhile, I discovered just how much I enjoyed mutual masturbation! I've become stronger, more independent, and even smarter from my job as a sex worker. I'm using the natural talent I have with my voice and my naughty by-nature personality to bring you an erotic podcast like no other. It simply cannot be like another because it's ME being MYSELF. I want to share my passionate observations on films, aural sex, audio erotica, and lots more. This podcast is an experiment for me and fun because I write, edit, produce, and promote it myself. I definitely hope you enjoy it.
Obviously, I am a huge fan of Podcasts. I like true crime, horror, and audio dramas. I would love to do skits with a partner at some point. If that is something you are interested in then shoot me an email on the contact page! 
I support an open and free world in regard to sexuality and women's rights. I love animals, cult and horror films, ghost hunting as a skeptic, beer, and love travel. Occasionally, I enjoy remodeling my home as it has been a work in progress since I bought it. I adore the beach and it's my favorite place to be. I am saving still for a vacation home. My occupation has afforded me many opportunities to get to know men from all over the world as well as a lifestyle I thoroughly enjoy. I have a life I am happy with; I teach some classes part-time, squeeze some phone sex in, I do date, several guys, at a time, and have many friends. My family is awesome and I have a close relationship with my parents, brothers, and nieces. 
I enjoy erotic audio a lot. Occasionally I have done recordings for clients at a fee. But I enjoy making them and that's the real reason for the podcast. It's just a hobby for me to do on the side. So, that is the Lynnea Lane story, it might be "not-so-sexy" to you, but overall it's who I truly am. I don't pretend to be anything other than who I am! Thanks so much for reading!

Side Note: This podcast is pointless if you don't support it in one of the following ways: 
Supporting my Sponsors

Writing a positive review wherever you found the show

Calling and leaving naughty voicemails to be used on the show 1-833-839-7588
Making a monthly pledge at Patreon
Doing a one-time donation or gift purchase at Wishtender